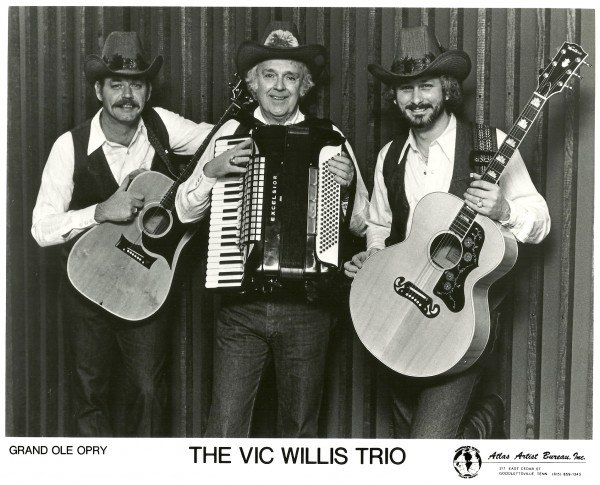 Longtime member of the Grand Ole Opry, Vic Willis of the Willis Brothers, took his music in a new direction after his brother Skeeter passed away, and his brother Guy was unable to perform due to ill health. Willis teamed up with studio musician and vocalist, Curtis Young, and together they began to craft and assemble a new set of songs that were still country, but had a different flavor. Willis' accordion was brought to the forefront as a featured instrument, and new tunes were chosen to go along with the new sound. Updated arrangements of popular folk songs included 'Shenandoah', 'The Last Cheater's Waltz' and 'American Trilogy'.
Willis gave his new group, which included Skeeter's replacement C.W. Mitchell, a new name, and as the Vic Willis Trio they appeared regularly at the Grand Ole Opry, always to a great response and many encores.
Sadly, Vic Willis and C.W. Mitchell are no longer with us, but First Generation Records are pleased to be able to bring you part of the musical legacy that was the Vic Willis Trio, in the form of a collection of country music hits, recorded at Pete's Place recording studio on Music Row, a result of the group's collaboration with legendary steel guitarist and producer, Pete Drake.
First Generation Records is the original label of Country Music Legends founded by Pete and Rose Drake and now distributed under the umbrella Creative and Dreams Music Network, LLC. as Countryrecords.com or Creativeanddreams.com.
Videos