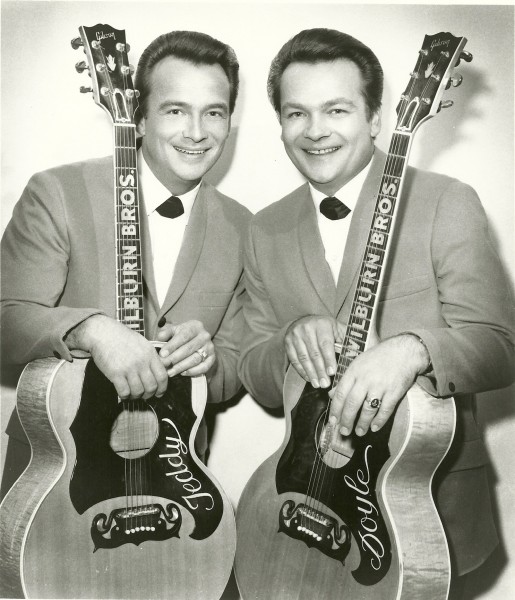 First Generation Records proudly presents the family harmony sounds of the Wilburn Brothers. This CD, recorded at Pete Drake's recording studio in Nashville, Tennessee, demonstrates the musical sounds of one of country music's great sibling duos, Doyle and Teddy Wilburn.
The Wilburn Brothers were as formidable in the spotlight as they were behind the scenes, lending their superb close harmonies to many hit records. Between 1955 and 1972, they scored 30 chart hits and notched two Top Ten duets with Ernest Tubb, "Hey, Mr. Bluebird" and "Mister Love."
In 1967 the Wilburn Brothers were named Duet of the Year in the Music City News Awards. The Country Music Association named them as a nominee for Vocal Group of the Year in 1972.
Virgil Doyle Wilburn was born on July 7, 1930, in Hardy, Arkansas with Thurman Theodore Wilburn following on November 30, 1931. Their musical career began when their father, a disabled World War I veteran, purchased a guitar, mandolin and fiddle from the Sears Roebuck catalog in the hopes that his children might play music to assist with the family's finances. With older brothers Lester and Leslie and sister Geraldine, Doyle and Teddy began playing on a Thayer, Missouri street corner on December 24,1937. Soon the children were spending six months of the year touring radio stations, school auditoriums and churches throughout the South as the Wilburn Family. During a 1940 stop in Birmingham, Alabama, the group caught the attention of singer Roy Acuff, and they were invited to join the Grand Ole Opry. However, due to pressure from child labor organizations, the Opry was forced to terminate their contract after six months.
The Wilburn Family's touring schedule was curtailed by the United States' entry into World War II, and after the war, Geraldine married and retired from the road. The brothers continued to perform, and in 1948 were named to the cast of the famed Louisiana Hayride radio show where they befriended a then-unknown Webb Pierce. In 1951 both Doyle and Teddy were drafted to serve in the Korean conflict. Lester and Leslie retired from the band while they were overseas, so Doyle and Teddy changed their name to the Wilburn Brothers.
Their old friend Webb Pierce was instrumental in the siblings rejoining the Grand Ole Opry. They also backed Pierce on tour and signed to his label, Decca. Their first major hit was "Sparkling Brown Eyes," a collaboration with Pierce that spent 18 weeks on the charts, peaking at #4 in mid-1954. They were also uncredited backing vocalists on Pierce's biggest hit, "In the Jailhouse Now."
Between 1955 and 1972, the Wilburn Brothers scored 30 chart hits, including "I Wanna Wanna Wanna," "I'm So in Love With You," "Go Away With Me," "Which One Is to Blame," "Trouble's Back in Town," "Roll Muddy River" and their biggest single, 1966's "Hurt Her Once for Me." They also notched two Top Ten duets with Ernest Tubb, "Hey, Mr. Bluebird" and "Mister Love."
During the late '50s, the brothers teamed up with steel guitarist Don Helms to found the Wil-Helm Talent Agency, and Doyle and Teddy convinced Lester and Leslie out of retirement to run Sure-Fire, a music publishing house. The two business concerns helped launch the professional careers of talents including Sonny James, Jean Shepherd, the Osborne Brothers and Loretta Lynn, who toured with The Wilburns' road show and later landed a recording contract with Decca under their managerial wing. In 1963 the Wilburn Brothers were awarded their own weekly syndicated TV variety series. The Wilburn Brothers Show, one of the first country music programs broadcast in color, ran through 1974 and provided early exposure to acts including the Oak Ridge Boys, Tammy Wynette and Barbara Mandrell. They recorded their final Decca LP, Sing Hinson and Gaither, in 1978.
After Doyle passed away in 1982, Teddy began a solo career and remained a member of the Grand Ole Opry until his death in 2003.