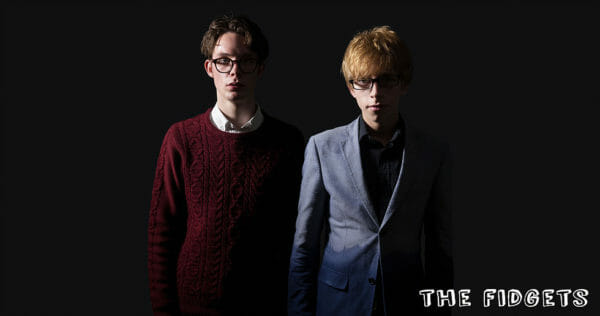 Creative and Dreams Music Network, LLC and Fred Cannon KHS are proud to welcome Max Stockin and Ryan Skidmore, collectively known as The Fidgets.
The Fidgets are a young, UK based pop/rock band who formed in 2012 when Max answered an advertisement for a young singer and guitarist interested in sixties pop music. The ad had been placed by Ryan, and when Max showed up to rehearse, both knew instinctively that there was no need to look any further. The Fidgets have since earned a huge fan following busking, celebrating their 500th performance earlier this year, and they have released two singles 'Hey!' and 'It's Only You.' With a look and sound best described as 'the Beatles meet the Rubinoos', Max and Ryan not only combine great lyrics with catchy melodies, but they bring a genuine, good humored camaraderie to each performance, which is not only entertaining but uplifting. True originals, The Fidgets bring a positive vibe to the word fidgeting. Hey! You will probably want to get up and dance.
The Fidgets are from the West Midlands region of England, where they continue to be based. Despite having an uncle who was a musician, Max did not discover his passion for music until he was 17, but when the realization hit, there was no stopping him. His uncle was a huge influence and mentor for the first year, teaching him everything he needed to know to get started; from which songs to play and how to play them, to where to source gigs. All proved invaluable in getting the band off the ground. He even came up with the name The Fidgets. Max remains eternally grateful and says that he wouldn't be where he is today without him. Ryan, on the other hand, started playing guitar at the age of 11. Although none of his family are musicians, they share a love of music, and Ryan was inspired to pick up the guitar after hearing Deep Purple! He started playing live a couple of years later with a handful of bands from school.
Max and Ryan's first gig as The Fidgets was in March 2013 at The Dodford Inn, a local pub in their home town of Bromsgrove. They also successfully auditioned for 'Britain's Got Talent', but when the time came around for the 2015 season, they were already working with a management team and did not want to tie themselves contractually. As mentioned earlier, The Fidgets also work hard busking, appearing in the Cathedral City of Worcester and also nearby Stratford-upon-Avon, birthplace of Shakespeare. Their busking gigs are so popular that their local fan base always want to know where they will be appearing next. They even held the single launch of their first release 'Hey!' in Worcester town center, with a British café called the 'Boston Tea Party' as an inadvertent backdrop, perhaps as a nod to The Fidgets' future success in the US!
With a repertoire that includes covers from the Beatles, the Kinks and Johnny Cash among others, The Fidgets also write their own songs. Both cite the Beatles as their biggest influence, but also include an eclectic mix as diverse as Elvis Presley, Chuck Berry, Bob Dylan, Queen, David Bowie and They Might Be Giants. When it comes to their own compositions, Max draws on his imagination while Ryan writes mainly from personal experience. Sometimes they will write individually, and on other occasions, one will give the other a song to finish. Both singles 'Hey!' and the follow up 'It's Only You' have received airplay on local BBC radio, with 'It's Only You' recently featured as 'Record of the Week.'
The Fidgets – because why sit still when you have great music?!
For more information about The Fidgets, please email us at info@creativeanddreams.com.
"It all begins with a creative dream." – Fred Cannon KHS