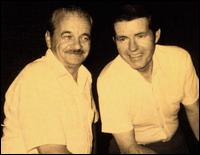 Speedy West
His uniquely identifiable style, combined with chordal executions single string riffs, gained public recognition for the steel guitar and Speedy's name. He pioneered the "crash-bar" technique, composed instruments that became classics and was known as "Steel Guitar's Foremost Showman." Speedy was inducted into the Rockabilly Hall of Fame and the Steel Guitar Hall of Fame.
Jimmy Bryant
This self-taught guitarist made a name as a top session player with his country-jazz style accompanying Frank Sinatra, Bing Crosby, Gene Autry and many, many more. Alongside steel guitar legend Speedy West, Bryant pioneered the modern country music style and technique commonly referred to as "chicken-pickin,"which is far more difficult to perfect than Bryant made it seem. He never conformed and had a natural gift for improvisation, always finding new and exciting ways to play arrangements during studio sessions and giving recordings much needed flare.
In 1975, Pete Drake, a huge fan of Jimmy and Speedy's music, asked them to record this CD in Nashville. Musicians watched their technique in amazement during the week of recording sessions at Pete's Place Studio.
Releases
Buy Now

[audio:http://www.creativeanddreams.com/audio/first-generation-records/Speedy West and Jimmy Bryant/01-Speedy West and Jimmy Bryant-Moonlight Valley.mp3,http://www.creativeanddreams.com/audio/first-generation-records/Speedy West and Jimmy Bryant/02-Speedy West and Jimmy Bryant-Boogie Man.mp3,http://www.creativeanddreams.com/audio/first-generation-records/Speedy West and Jimmy Bryant/03-Speedy West and Jimmy Bryant-The West Is Calling.mp3,http://www.creativeanddreams.com/audio/first-generation-records/Speedy West and Jimmy Bryant/04-Speedy West and Jimmy Bryant-On the Move.mp3,http://www.creativeanddreams.com/audio/first-generation-records/Speedy West and Jimmy Bryant/05-Speedy West and Jimmy Bryant-Speedy Recovery.mp3,http://www.creativeanddreams.com/audio/first-generation-records/Speedy West and Jimmy Bryant/06-Speedy West and Jimmy Bryant-Chase.mp3,http://www.creativeanddreams.com/audio/first-generation-records/Speedy West and Jimmy Bryant/07-Speedy West and Jimmy Bryant-Wound Tight.mp3,http://www.creativeanddreams.com/audio/first-generation-records/Speedy West and Jimmy Bryant/08-Speedy West and Jimmy Bryant-Jumpin' Jeepers.mp3,http://www.creativeanddreams.com/audio/first-generation-records/Speedy West and Jimmy Bryant/09-Speedy West and Jimmy Bryant-Rolling Sky.mp3,http://www.creativeanddreams.com/audio/first-generation-records/Speedy West and Jimmy Bryant/10-Speedy West and Jimmy Bryant-Lazy Guitar.mp3| titles=Moonlight Valley,Boogie Man,The West Is Calling,On the Move,Speedy Recovery,Chase,Wound Tight,Jumpin' Jeepers,Rolling Sky,Lazy Guitar]

Moonlight Valley
Boogie Man
The West Is Calling
On the Move
Speedy Recovery
Chase
Wound Tight
Jumpin' Jeepers
Rolling Sky
Lazy Guitar