---
---
Sold out 11,000 seats! Creative and Dreams Music Network's # 1 artist Romina Power performs Saturday night May 30th, 2015 at the fabulous Roman Amphitheater of the Arena of Verona.
---
Romina Powers' new single featuring "A Message" to the world for peace, available now digitally in English, Italian and Spanish.
---
a Cannon/Buono Production
---
| | |
| --- | --- |
| (Italian) Potete acquistare il CD "Da Lontano" di Romina Power sul sito:(Spanish) El CD de Romina Power, "Da Lontano" se puede comprar en:(Dutch) Je kunt de cd van Romina Power "da Lontano" kopen: | creativeanddreams.bandcamp.com/album/da-lontano |
---
Romina's Music is available in the following stores in  Italy:
iTunes | AmazonMP3 | Google Play | Rhapsody | eMusic | Spotify | Rdio | xBox | Deezer
---
Bio
Recently, Romina and Al Bano reunited on stage for the first time in 19 years. They performed two reunion concerts in Moscow, which were attended by thousands of fans and grossed 10 million euros. Fueled by the success of these concerts, Romina and Al Bano relaunched a new and exciting career together. With a string of concerts in Atlantic City, Montreal, Los Angeles, Romania, Germany and other major countries, Romina was back! In 2014, she released a new single "The Message" in Spanish, Italian and English, through Creative and Dreams Music Network, LLC.
Romina's momentous and welcome return to her beloved audience recently culminated in an amazing performance by her and Al Bano at the Roman Amphitheater in Verona, Italy, in May of 2015. With a sold out audience of 11,000 plus, this colorful and spectacular show was transmitted by the Italian National TV Network RAI, and was watched in over eight countries by over 51,000,000 viewers around the globe.
Romina Power is a major international talent, known throughout the world as a singer-songwriter. Born in Los Angeles, California, she is the eldest daughter of American actor Tyrone Power and his second wife, actress Linda Christian. After her parents divorced in 1956, Romina traveled extensively around the world, residing mainly in Mexico and Italy, where she spent much of her childhood. Romina also attended a boarding school in England, where she discovered the emerging music of the 1960's. Inspired by The Beatles and Bob Dylan, she began composing her own music. After school in England, Romina moved to Rome, Italy. It was here that she was discovered, and at the age of 14, launched her acting career. She appeared in starring roles, mainly in Italian movies. In the late '60s, on the set of Nel Sole, an Italian musical movie production, she met her future husband, singer Al Bano Carrisi. The couple married in 1970, after having worked together on the recording of her first hit single "Acqua di Mare". The song was the winner of Festival Bar, a major summer competition that featured the most popular Italian artists of that time.
Al Bano and Romina Power became a singing duo in 1975, and they had an incredible string of successes in Latin America and Europe, especially in Germany, Austria, Spain, USSR and Romania. In Romania, after the fall of the general secretary of the communist party and president Nicolae Ceausescu, their song,"Liberta (Freedom)", was played on national radio.
In 1980, Al Bano and Romina Power won the special Kawakami Award at the Yamaha Pop Festival in Japan. In 1984, they won the prestigious San Remo Song Festival in Italy with "Ci sara".
The singing duo became household names throughout Europe with hits like "Felicita", "Tu, soltanto tu", "Sempre sempre", "Liberta" and "Sharazan". They have a huge fan base that still exists today.
The couple divorced in 1999. They have four children.
Since 2000, Romina has organized exhibitions of her paintings in Venice, Rome, Milan, Florence, Los Angeles and Santa Monica. She has also hosted several primetime variety shows on Italian TV. As an actress, she recited The Vagina Monologues on the Italian stage from 2004 until 2006. She has also published several books, both fiction and nonfiction. 
In 2004, she traveled to India with her son Yari Carrisi-Power, where she wrote and directed her first film, Upaya. Three years later, she moved to the United States to escape the intrusive attention of the Italian press, and to assist her mother who had been diagnosed with colon cancer.
In August 2011, Romina reconnected with an old friend, music entrepreneur Fred Cannon, whom she had worked with in Italy and France. Cannon discovered that Romina had an unreleased album, "Da Lontano", which was recorded in 1998 and produced by Romina, Yari Carrisi-Power and Maurizio Fabrizio. He convinced her to release it. With the genial touch of the legendary mastering engineer Greg Lukens, and his associate Colin Peterson, the album became a reality. In June 2012, Power Entertainment signed an exclusive deal for marketing and distribution worldwide with Creative and Dreams Music Network, LLC.
The release of Da Lontano is now available.
For more information about Romina Power, please email us at info@creativeanddreams.com.
"It all begins with a creative dream." – Fred Cannon
Videos
MOSCA: AL BANO E ROMINA IN CONCERTO INSIEME DOPO 19 ANNI IN RUSSIA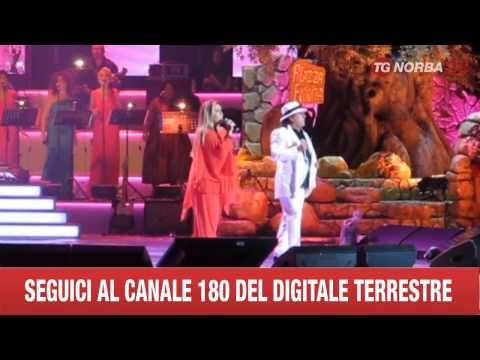 Al Bano e Romina Power – LIBERTA (Anniversario Concerto Al Bano Carrisi -17ottobre2013)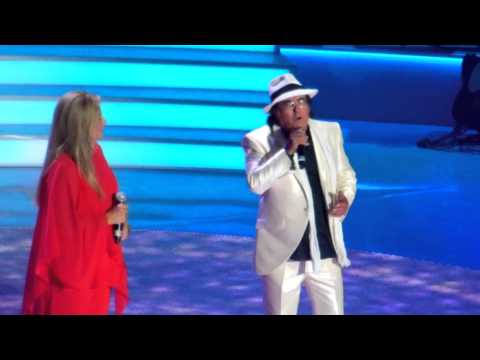 Press