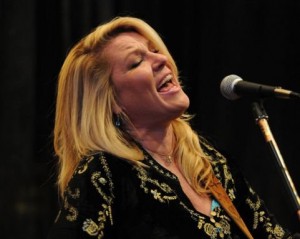 Biography
Winner of 11 WAMMIES, including Album of the Year, Artist of the Year, Songwriter of the Year and Roots Rock Vocalist!
After a standing ovation following her performance at the packed Strathmore Music Center during the recent Woodstock tribute, Patty Reese's attitude with soulful expression and her powerhouse pipes proved a match for the likes of Janis Joplin and other prolific and important artists. Other comparisons have been made, that Reese claims as influences, including Aretha Franklin, Bob Dylan and Bruce Springsteen.
Patty Reese performs more than 250 dates a year, released a WAMMIE-award-winning album "Here and Now" and has garnered multiple songwriting awards over the years. Her powerhouse vocals, strong work ethic and honed songwriting skills have led her to the recording of her best work to date Strong Medicine.
On her recent CD, between acoustic guitar-accompanied story songs and powerful songs backed by a full band, Patty puts all of her crafts to work. The title track, Strong Medicine, tells of the healing power of love with a beguiling, smokey vocal performance over a blues groove reminiscent of Al Green. "Last Call for Love," a closing time, slow dance anthem is perhaps the most revealing of Patty's style—direct sincerity with a soulful delivery. Crowd pleaser "Who's Got Your Back" resonates soundly as the song's roots, rock, surf and blues tones are juxtaposed with the lyrics "gospel truth."
Among the originals by Reese, also are three tracks—all standout unique versions of other artists' songs including "Keep Me in Your Heart" (Warren Zevon), "While My Guitar Gently Weeps" (George Harrison) and "Buckets of Rain" (Bob Dylan), which all perfectly showcase Reese's intimate, tender and dynamic vocal range.
The CD features the Reese's outstanding band as well as special guest appearances by award-winning musicians and/or vocalists Deanna Bogart, Donna Britton, Nadine Rae, Jen Smith and Jay Britton.
Who's Got Your Back? (He's Looking Out For You)
Just Friends
Good Lovin' Man
Better Than Ever
Last Call For Love
Strong Medicine (free)
Trust This Heart Again