Apple Music | Amazon | CD Baby
'PRETTY GRITTY' CREATE THE BEST OF BOTH WORLDS
Creative and Dreams Music Network and Fred Cannon, producer and CEO are proud to welcome the soulful Americana duo Pretty Gritty to our family of talented singers, songwriters and musicians.
Proving that Pretty is as Gritty does, Blaine Heinonen and Sarah Wolff, the soulful, Americana duo known as Pretty Gritty, are about to make their first foray with the launch of their EP 'Lonely Road'. Recorded in Nashville, and produced by the powerhouse production team of Fred Cannon and Paul Buono for the Creative and Dreams Music Network label, 'Lonely Road' showcases the duo's unique and delicate harmonies to perfection – but don't be fooled, Cannon/Buono have made sure that each track also packs a Pretty Gritty punch!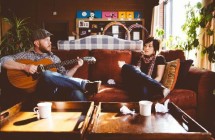 'Lonely Road' includes covers as well as original songs. As you commence to listen to this exciting product, you are introduced to an amazing vocal cover rendition of " A Thousand Miles from Nowhere " by Dwight Yoakam. This is a beautiful and warm initiation to a wonderfully harmonic presentation of this talented group. Pretty Gritty have taken Jeff Buckley's legendary composition 'Forget Her' and made it their own; not an easy task. Their arrangement and harmonies are both mesmerising and memorable. This is a track you will want to revisit time and time again and you will definitely not forget her! And just when you think you have heard every possible version of Dolly Parton's 'Jolene', Pretty Gritty take your breath away with a rendition that is unique without detracting from Parton's very heart and soul. Pretty Gritty's versatility also shines through on their original compositions; 'Best of Me' is as soulful and reflective as 'Pleased to Meet You' is quirky and upbeat. Although Blaine and Sarah are accomplished multi-instrumentalists, Cannon/Buono have chosen to produce a sound that allows Pretty Gritty's unique vocal harmonies to speak for themselves; a creative decision that enables 'Lonely Road' to stand head and shoulders above others in its class.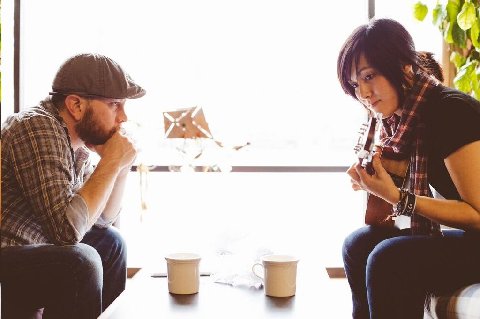 Originally from Rockville, Maryland, on the US East Coast, Blaine and Sarah discovered their passion for music at school, where they both played in their respective school bands. Later, their musical paths crossed periodically, but it was not until a mutual friend asked them to perform a duet at an 'open mic' that they realized they had a winning combination. Sarah came up with the name 'Pretty Gritty' while describing their sound during an interview and, as Blaine explains, "Not too polished, not too raw. Just enough of both." They are currently touring the US West Coast where they have been warmly received and are playing sold out gigs.
Pleased to meet you, Pretty Gritty!
Pretty Gritty has cultivated a unique sound that has allowed them to open for Tim O'Brian, Tony Trischka, Chris Eldridge, Josh Gracin, Larry the Cable Guy and Lake Street Dive at renowned places such as Jammin Java, 8×10, Frederick Gone Country, the Virginia State Fair and the Charm City Folk and Bluegrass Festival.
For more information about Pretty Gritty, please contact us at info@creativeanddreamsmusicnetwork.com.
http://thatgreenhen.com/pretty-gritty-on-pretty-gritty/
Open-ended Radio Interview
1. How old were you when you first started playing music?
2. How did you meet and when did you found Pretty Gritty?
3. I'm sure all our listeners want to know why you chose your name, Pretty Gritty?
4. You're both multi-instrumentalists. Please name the instruments you bring to the stage when you perform.
5. Do you have a preference for the size and setting of venues when performing your music?
6. Any stories you'd like to share regarding your experiences while performing as an opening act in concert?
7. You've recorded 3 CDs and your debut CD won 3 IMC Awards in 2012. Congrats and how exciting was that?
8. You have a large and loyal fan base. That has to be quite special for you?
9. Your new EP has 6 songs and is titled Lonely Road. Why did you choose the title Lonely Road for this CD?
10. Please tell us more about your experience of recording your new CD, Lonely Road.
11. What was your inspiration for your song "Best Of Me"?
12. And how about your song "Pleased To Meet You"?
13. What inspired your song "Running Scared"?
14. How does it feel to now be a part of the musical family of Creative and Dreams Music Network?
15. Where can our listeners find Pretty Gritty on social media?
16. Thank you for taking the time to do this interview on our station.