Marcie May and Vonnie Zerhusen created the loveable characters Penny and Tubs. Inspired by Marcie's granddaughter, Sophia, and her large cat, Rusty, Penny and Tubs came to life through the book and music, The Adventures of Penny and Tubs: The City on the Sea.
For 20 years, Marcie wrote music for an eight-time Emmy award winning daytime television show before she decided to change career paths. The idea for the colorful city on the sea came to her in a dream, and after receiving encouragement from family and friends, the characters and song quickly followed. Marcie joined forces with Vonnie, a special education teacher, to co-write the book. Vonnie brought her educational expertise to the writing process and also lends her talents to the character of Mrs. Z.
To learn more about Penny and Tubs, please visit www.pennyandtubs.com.
The Mystery of the Crystal Waterfall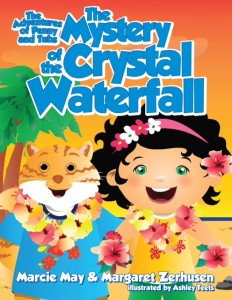 The Mystery of the Crystal Waterfall is an excellent early reader and includes culture of the Hawaiian islands. Penny and Tubs embark on a new adventure to Hawaii. Tubs is not excited about his first plane ride but Penny helps him enjoy the trip. They meet a medicine man at the luau and hear the magical story of the Crystal Waterfall. Find out what happens in this beautifully illustrated story!
Reviews
"Another enchanting adventure from authors Marcie May and Margaret Zerhusen! With whimsical illustrations and an exciting story, Penny and Tubs celebrate the joys of friendship and helping others. Highly recommended…The Mystery of the Crystal Waterfall shines with wit, imagination, and even a little fun learning along the way." — Gary Conrad, Animation Director, Nickelodeon
"Fun, Mystery, Intrigue and educational facts about Hawaiian Culture, fill the pages of The Mystery of the Crystal Waterfall. With vivid illustrations and an enchanting story. Penny and Tubs share the true meaning of friendship and helping other along the way. This magical story will captivate the young readers and expand their love of reading."– Debi Derryberry, Oscar Nominated Voice Over Artist, Voice of Jimmy Neutron, Speedy Alka Seltzer, Draculaura – Monster High and many more.