The Musicians Hall of Fame and Museum in Nashville, Tennessee is the only museum in the world that honors the talented musicians who played on the greatest recordings of all time. Some musicians such as Jimi Hendrix are well known, while others such as L.A. session drummer Hal Blaine, are not as well known to the public but have played on hundreds of hit records for Elvis, Frank and Nancy Sinatra, The Byrds, The Mamas and The Papas and The Beach Boys.
The Musicians Hall of Fame and Museum has on exhibit the instruments that these musicians used to record many classic hits. Just of the few of the hundreds of items on display include one of Jimi Hendrix's guitars; the Rek-O-Kut machine that was used in Sun Studios to record a young Elvis Presley when he came in to make a recording for his mother; the bass guitar that was used to record "Born To Run" by Bruce Springsteen; the studio drum set that was used on all of the STAX hits; and the first recording console from "The Quonset Hut" Columbia Studio B that was used to record Patsy Cline and Marty Robbins. The Museum will constantly be adding new exhibits from all genres of music for guests to enjoy.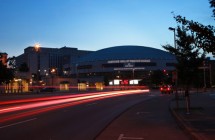 The museum is divided into cities that have a history of recorded music. These cities include Detroit, Nashville, Muscle Shoals, Los Angeles, Memphis and New York. All of these places had musicians who were there when the recording industry was evolving and were able to play whatever was needed, regardless of style and genre. Some of these studio bands, such as Booker T and The M.Gs and TOTO, eventually became hit bands themselves. From the 1950s through the mid 1980s these groups of studio musicians played on more than eighty
percent of all the records made in these music cities.
The museum is proud of its host city's musical past as well. Nashville is known as the center of country music, but many people are unaware of how many other styles of music have been recorded here over the years. Such songs include "Dust In The Wind" by Kansas, "Heart Of Gold " by Neil Young and "Lay Lady Lay" by Bob Dylan.
The museum is open Monday through Saturday from 10 a.m. to 5 p.m.
For more information about the Musicians Hall of Fame and Museum, visit their website or contact us at info@creativeanddreams.com.
"It all starts with a creative dream." – Fred Cannon
Links
Diving Deep at Musicians Hall of Fame via WMOT
Billy Gibbons, Peter Frampton and More at the Musicians Museum

Musicians Hall of Fame Induction Ceremony

Musicians Hall of Fame Induction Ceremony

Musicians Hall of Fame Induction Ceremony