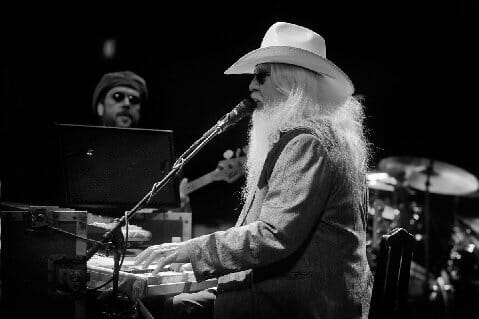 Creative and Dreams Music Network, LLC and Fred Cannon KHS are proud to honor the achievements of legendary musician, singer and songwriter Leon Russell.
With a career spanning more than 50 years, Leon Russell has proved himself an innovator and master of many musical genres, collecting numerous accolades along the way. A true showman in every sense of the word, Leon's enormous stage presence, coupled with his trademark long hair, beard and sunglasses, belies a sweet man of tremendous warmth, gentleness of spirit and infectious humor. Quite the musical chameleon, he can bring the house down with his own brand of earthy rock and roll, co- write the hauntingly melodic song 'Superstar,' which was a huge hit for the Carpenters, record an album of Christmas Hymns, record as a country music traditionalist under the pseudonym Hank Wilson, and is recognized as one of the best interpreters of Bob Dylan. His composition and musical genius knows no bounds.
Born Claude Russell Bridges on April 2, 1941, in Lawton, Oklahoma, Leon Russell moved to Los Angeles in 1958 and began working as a live and session musician. He soon found himself very much in demand, playing on countless recordings that included Phil Spector productions and hits by the Byrds, Paul Revere and the Raiders, and Gary Lewis and the Playboys, together with TV appearances on the ABC network, weekly rock and roll show Shindig, where he was the pianist in the house band Shindogs. It was during this time that he learned to play guitar from the legendary James Burton, and in 1962 officially began his recording career, releasing a single with David Gates who went on to become the lead singer of Bread. Leon's first solo single "Everybody's Talking 'Bout the Young" followed three years later. He then went on to make two albums as the Asylum Choir with fellow Oklahoman guitarist Mark Benno. In 1969, Leon arranged and played piano on landmark roots album Accept No Substitute – The Original Delaney & Bonnie & Friends, for his former fellow member of the Shindogs, Delaney Barrett. However, it was during the 1970s that his place in the spotlight was cemented with the release of his self-titled, debut solo album, which included the classic tracks "A Song for You," "Delta Lady" and "Hummingbird," and featured guest appearances by Eric Clapton, Steve Winwood, Joe Cocker, three members of the Rolling Stones and two members of the Beatles. This was followed by the release of Joe Cocker's live double-album Mad Dogs and Englishmen, on which he served as pianist and musical director, and George Harrison's Concert for Bangladesh. His second album Leon Russell and the Shelter People, released in April of 1971, went Gold. Notable songs included "Stranger in a Strange Land" and a memorable cover of George Harrison's "Beware of Darkness."
Leon's third album Carney produced his highest charting single "Tight Rope." This was followed by the release of the triple album Leon Live, taken from a performance at the Long Beach Arena. The following year he released "Lady Blue."
In 1976, Leon explored his country roots, recording a set of covers by Hank Williams and others, for which he used the alias Hank Wilson. Hank Wilson's Back, Vol. 1, was recorded in Nashville at producer Owen Bradley's legendary Barn studio. Also that year he released The Wedding Album, the first of two albums with wife Mary Russell, together with The Best of Leon Russell, which became his fifth solo album to be certified Gold. In September, 1978, he released a studio album Americana, and the following year, a tour with Willie Nelson produced the double album One for the Road.
The 1980s saw the dawn of another live album, New Grass Revival, and the following decade welcomed the release of his comeback album Anything Can Happen, produced by pianist and protégé Bruce Hornsby, in addition to a two disc retrospective Gimme Shelter: The Best of Leon Russell, followed by Face in the Crowd.
A celebrated and prolific songwriter, many of Leon Russell's songs have been covered by renowned artists and enjoyed chart success. "A Song for You" has been covered by artists that include Ray Charles, Dusty Springfield, Whitney Houston, Willie Nelson, Christina Aguilera and Michael Buble. The aforementioned song "Superstar," co-written with Bonnie Bramlett, became a hit for the Carpenters, and George Benson recorded "This Masquerade," which also won a Grammy for Record of the Year in 1972.
Not content with being an artist, Leon Russell is also a music business entrepreneur. He founded his own recording studio Skyhill, together with record labels Shelter, Paradise and Leon Russell Records. During the seventies, the Shelter label not only released his own creative works, but also launched the careers of Tom Petty and the Heartbreakers, J.J. Cale, Phoebe Snow and Dwight Twilley. It was on Shelter that Texas bluesman Freddie King revitalized his career. In 1974, Leon introduced the world to a group of fellow Oklahomans, the Gap Band, before they became funk-disco sensations, and had them back him on Stop All That Jazz. In 2002, when Leon launched Leon Russell Records, again he not only released albums by himself, but by artists he discovered. One of the first releases was Signature Songs, a collection of his best known compositions in stripped-down arrangements for voice and piano. Enjoying the freedom of his own label, a slew of albums followed, including Moonlight & Love Songs (2002), Angel in Disguise (2007), and more volumes in the "Hank Wilson" series.
Leon Russell will always be a musician's musician and in 2010, Elton John, who had often cited Leon Russell as an early influence, approached him with the idea for a collaborative album. This would become The Union, produced by T-Bone Burnett and included cameos from Neil Young and Brian Wilson. This album produced the single "If It Wasn't for Bad," penned by Leon, and it received a Grammy nomination for Best Pop Collaboration with Vocals. The Union also included "Eight Hundred Dollar Shoes," a poignant and warm tribute written by Elton John about his fellow collaborator, pianist and mentor. In 2011, Leon Russell was inducted into the Songwriter's Hall of Fame, and the Rock and Roll Hall of Fame. At the Rock and Roll Hall of Fame 26th Annual Induction Ceremony in New York, Elton John was his presenter.
A one of a kind gentleman, American icon and legend, Leon Russell best sums up his eclectic career with this humble quote, "I like all kinds of music, and I hate to do the same thing all the time."
For more information about Leon Russell, please contact us at info@creativeanddreams.com.
"It all begins with a creative dream." – Fred Cannon KHS