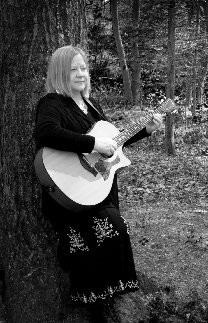 Creative and Dreams Music Network, LLC and Fred Cannon are proud to welcome Jean Bayou.
Jean Bayou is a surprise waiting to happen. Her music will surprise you, grab you and pull you into a realm sometimes reminiscent of the late 60s and early 70s, but with a definite modern current, rhythm and twist. You will find many hooks and grooves in her music, which is appealing to all ages and seems to know no cultural bounds. Jean's expressive, soothing and enticing mature alto voice, unique and percussive strumming/fingerpicking style, use of alternate tunings, passionate piano playing and innate musical ear, her humor and diverse choice of topics and musical styles, coupled with finely crafted, inventive lyrics and memorable, infectious melodies, all serve to distinguish her music. Her songs have been described as thought-provoking, haunting, positive, moving, inspiring, uplifting and just plain fun. Some are even great to dance to! She has been told that folks have found themselves smiling and humming her songs long after the last note was played, and friends have even reported singing her song, "Mammogram", while having their exams.
Jean Bayou possesses a sly, sometimes slightly irreverent wit and wisdom that come from years of raising a family, doing numerous volunteer jobs, working at a law firm for 28 years, running a song contest, heading a large and vibrant songwriting community, and just plain being on this earth for a good while now. Although she has played piano since the age of 5, started guitar at 12, was playing timpani and percussion in her high school band and vibes in her high school jazz band, Jean took a rather long hiatus to pursue other things–which only helped to hone her unique perspectives and gather material for the songs to come. She started performing her own music in public at open mics and songwriter showcases in the Washington, DC area a little over 10 years ago and quickly became known as a top-notch songwriter, and eventually, a polished and compelling performer. Jean's song stories are interesting, touching and funny, as is her own story. Through her warm, infectious, fun-loving, positive energy and enthusiasm, she provides inspiration to her peers, (and their kids!), as she embodies the adages that anything is possible, it's never too late, and sh** happens. She is currently starting work on a long-awaited book about her unique experiences and observations, centered around the time she lived in Benghazi, Libya, in the late 70s.
Originally from the Hudson Valley in New York State, some of Jean's favorite musical influences were semi-locals such as Pete Seeger, Bob Dylan, The Band, and NRBQ, as well as lots of radio, and huge stacks of records that she steadily listened to from an early age. Lucky to be the youngest of five children, and raised in a multi-generational home where she and her grandmother would pick out tunes by ear together on the piano, she was exposed to a wide variety of genres and taught herself to play many standards and popular songs on piano and guitar. She has taken numerous songwriting and music workshops over the years and worked with many distinguished teachers, all of whom she credits with helping to build her strong songwriting arsenal.
Jean earned a bachelor's degree in journalism from the University of Arizona in the mid-70s. In collaboration with an old friend whom she met while a student there, a video featuring her song, Mammogram, was used in 2012 by the Susan G. Komen Foundation as a PSA for breast cancer awareness month in southern Arizona.
Jean's leadership skills as President of the Songwriters' Association of Washington, (a position she held for eight years), were recognized when she twice received the Washington Area Music Association's WAMMIE award for Executive of the Year.
Her 2010 debut album, Just About Everything, was nominated for a WAMMIE. In the past 10 years, Jean has appeared on stage at the Washington Folk Festival, Bluemont Fair, Takoma Park Folk Festival, the Athenaeum in Alexandria, Reston-Herndon Folk Club, Brewer's Alley Songwriter Showcase, Fredericksburg Songwriter Showcase, house concerts and parties, open mics throughout the land, and was selected to perform at World Intellectual Property Day at the Library of Congress.
Of her inspiration, she says, "I absolutely love to make people laugh, or at least smile, and connect in some way with what the songs are saying. I mostly write from experience – my truths – which just happen to be the truths of many other people I know. I am also inspired by the many songwriters, musicians and other folks I have had the pleasure to meet on this journey, and the wonderful friendships and musical collaborations that have come to be."
Jean recently survived what she laughingly calls the "great extraction" when she sold her home of 31 years in the DC area and moved to Sarasota, Florida, where she is now immersed full-time in pursuing her life's passion–writing and playing music.
A second and greatly-anticipated album is in the works with some of her fans' favorites including Hatchetman, The Day and Your Karma Suits Ya… and maybe even a finished version of the colonoscopy song entitled I'm Goin'! Her song about procrastination is yet to come.
All good things come to those who wait, and the music and personality of Jean Bayou has definitely been worth that wait.
For more information about Jean Bayou, please email us at info@creativeanddreams.com.
"It all starts with a creative dream." – Fred Cannon
Releases