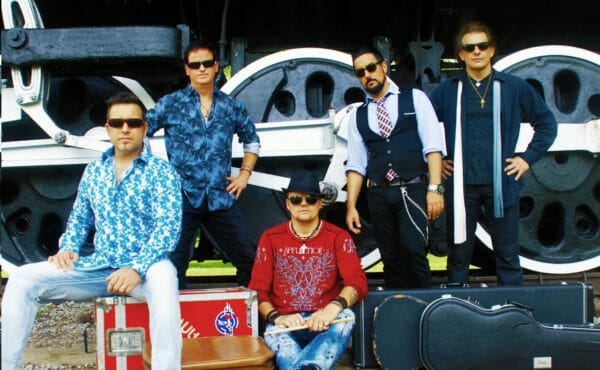 Hot Blooded
The Foreigner Experience
Greatest Tribute Band
Creative and Dreams Music Network, LLC and Fred Cannon KHS are proud to welcome HOT BLOODED.
Now you can experience the music of Foreigner as never before! "HOT BLOODED – The Foreigner Experience" is a Tribute show designed to deliver the experience of a live Foreigner performance so close to the original that you will be amazed!
Foreigner is arguably one of the greatest bands in the history of Rock music. With iconic hits like "I Want To Know What Love Is," "Feels Like the First Time," "Jukebox Hero," and "Cold As Ice," the music of Foreigner has been part of our lives for over 40 years.
With stunning ability to emulate the incredible vocals of Lou Gramm, lead singer, Matt Newton delivers a powerful performance from the very first note of the show all the way to the last note of the final encore! And with each member adding their own strong vocal talent, it is no wonder that HOT BLOODED is able to duplicate Foreigner's multi-layered harmonies night after night!
IF YOU LOVE THE MUSIC OF FOREIGNER
THIS IS THE TRIBUTE SHOW YOU'VE BEEN WAITING FOR!
For more information about Hot Blooded, please email us at info@creativeanddreams.com
"It all begins with a creative dream." – Fred Cannon KHS
Links:
Say You Will
video by Deron M. Miller
---
30 second Radio Bed
---
Matt Newton – Lead Vocals
Having performed thousands of shows all over the world over the past 25 years, Matt Newton is a seasoned pro and was even considered for a Grammy nomination!
Matt's performance credits include working with distinguished artists, John Schlitt and Gary Chapman, and opening for music legends Tim McGraw, The Everly Brothers, and dozens of others.
His commanding stage presence and astonishing ability to sound like Lou Gramm will leave you spellbound as you hear him sing Foreigner's timeless classics, "Jukebox Hero," "Feels Like The First Time," "Cold As Ice," and all the rest of Foreigner's greatest hits!
Delivering an unforgettable performance, Matt continues to receive enthusiastic praise as the voice of HOT BLOODED from audiences all around the world!
---
Nicholas Johnson – Guitar/Vocals
When it comes to Nicholas Johnson, Classic Rock runs through his veins! A much sought-after studio and live guitarist, Nicholas has been recording and performing for over 25 years all over the world!
Having been written up in many newspapers and magazines such as The New York Times, The Boston Globe, and LA Weekly, Nicholas has also had his guitar work and song writing featured in both film and television!
As a graduate of the prestigious Berklee College of Music, Nicholas is no stranger to advanced guitar techniques. In fact, his reputation was so firmly established that he was recruited to be the director of the New Jersey School Of Rock!
As the guitarist for HOT BLOODED, Nicholas delivers the sound and style of Mick Jones so closely that many have asked if he was taught by Mick himself!
---
Earnest Chaney – Keyboards/Vocals
Hailing from Nashville, Tennessee, Earnest has been performing with some of the greatest rock stars in the business for over 30 years! Sharing the stage with the likes of DeGarmo & Key, Geoff Moore, White Heart, and many others, Earnest is no stranger to the spotlight!
Always an over-achiever, at the age of just 20 Earnest found himself directing a 30-piece orchestra, and by the time he was 30, he had written several singles that all charted on the CCM/Rock top 40!
When it comes to HOT BLOODED, Earnest is obsessed with perfection! He has masterfully recreated the most subtle details of the strong keyboards that dominated Foreigner's unique sound.
Expect nothing less than total perfection from Earnest!
---
Shane Russell – Drums/Vocals
Although listed as the drummer for HOT BLOODED, Shane Russell's vocal ability is an integral part of why HOT BLOODED is able to recreate Foreigner's 5-part harmonies to perfection in a live performance!
Among his many outstanding accomplishments, Shane was signed to an indie label in 2010 and toured the country as a vocalist with a single in Billboard's top 100!
With a percussion career spanning over 30 years, Shane has shared the stage with many notable artists including Little Texas, Saving Abel, Vince Neil, and countless others!
A well-known legend in the music industry, you can depend on Shane Russell to deliver a powerful performance of Foreigner's classic hits each and every show!
---
Eric Tuttobene – Bass/Vocals
From the very beginning of Eric Tuttobene's career in the early 80's, Foreigner was on the top of the list of his favorite bands!
Having grown up in Rochester, NY and even playing with some of the members of Black Sheep (Lou Gramm's band just before joining Foreigner), Eric is well qualified to round out the line-up of HOT BLOODED.
After moving to Los Angeles in the 80's, Eric spent many years performing, touring, and recording with many well-known US rock bands and artists.
With exceptional precision, Eric is able to help reproduce Foreigner's sound flawlessly by drawing on his 30-plus years of bass and vocal experience.
Eric adds the perfect finishing touch to HOT BLOODED!
Management and bookings:
Fred Cannon 917.602.2659
Freddycannonmusic@gmail.com