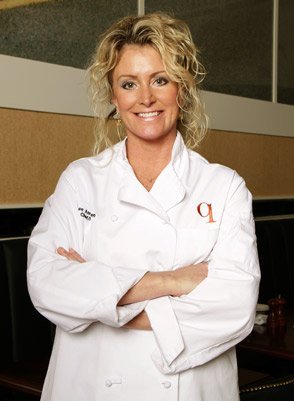 Chef/Partner Lee Ann Whippen is a nationally recognized BBQ pitmaster. She is also president and owner of Wood Chick's BBQ Restaurants & Catering Company and has done competitive BBQ for more than 16 years with accomplishments including:
Lead Pitmaster for Wood Chick's BBQ Competition Cooking Team
Member Kansas City Barbecue Society
KCBS Certified BBQ Judge
In 1996 she began competing in BBQ with "Team Boaris," including father and step-mother Jim and Kathy Tabb. She founded Wood Chick's BBQ Catering Company and BBQ Competition Team in Chesapeake, Virginia in 2002. Wood Chick's BBQ Catering Company grew twofold between 2002 and 2004. Due to the growth of the catering, the 24′ trailer with smoker on board wasn't enough to handle the demand, and the decision was made to open Wood Chick's BBQ Restaurant in Chesapeake Virginia in 2004.
Lee Ann has appeared in numerous TV, radio and print stories about BBQ including the Travel Channel, The Today Show, 700 Club and People Magazine. She even served BBQ to the Senators and Congressman in the Capitol. However, she is most widely known for TLC's "BBq Pitmasters" series and the infamous "Throwdown with Bobby Flay" on the Food Network, where she beat Bobby Flay with her mouth-watering pulled pork shoulder.
In 2010, Lee Ann moved to the city of Chicago where she is now the Chef/Partner of Chicago q, a new urban BBQ restaurant located in the heart of the Gold Coast.
Pulled Pork BBQ
Links