---
---
Long Way is now available!
Long Way, the latest CD from Tennessee-raised, Minnesota-based musician Chastity Brown is now available from Creative and Dreams Music Network.Long Way follows Chastity on her two-year journey to reconnect with her Southern roots. Each song brings listeners along for the ride, filling their ears with Chastity's unique blend of raw emotion and powerful lyrics that cannot be limited to a single genre. On Long Way, Chastity delivers her beautiful and complex mix of gospel, roots, soul, jazz, blues and country that made her previous album, Back-Road Highways, a success with fans and critics alike.
Long Way CreditsAll Songs Written By: Chastity Brown
Publishers: Chastity Brown Music Publishing (BMI)
Creative and Dreams Music Publishing Network (BMI)"Long Way" and "Honey Bee" co-written with Paul Buono
Publishers: Chastity Brown Music Publishing (BMI)
Creative and Dreams Music Publishing Network (BMI)
Pollen Days Publishing (BMI)Executive Producer: Fred Cannon
Produced, Recorded, and Mixed by Fred Cannon and Paul Buono at Helsinki South Studios, Franklin TN
Additional Recording at The Stone Room- Franklin TN and Brownstone Studios- Nashville TN
Mastered By: Greg Lukens
Album Photo: Fred Cannon
Project Coordinator: Rose DrakeChastity Brown: Lead Vocals, Banjo, Guitar
Paul Buono: Guitars, Dobro, Bass, Drum Programming
Blair Masters: B3 Organ
"Long Way": BGV's by MJ2
"Southern City": BGV's by MJ2
"Come Tumblin'": Violin by Julia Johnson
"Honey Bee": Trumpet by Steven Patrick
"Out On a Line": Trumpet by Steven Patrick
"Sweet Honey": Drums by Dan Needham
"Whispers in the Valley": BGV's by Erisa Rei Kopp
---
---

She'll put a spell on you. Sweet as molasses and woodsmoke, clear and burning as summer sun, Chastity Brown casts magic. Her voice brings you to the crossroads with every turn, warms, comforts and challenges you. She is the inheritor of Leadbelly, Nina Simone, Bonnie Raitt and Roberta Flack. She is past, present and future. She is fire, earth, air and water. She's a natural.
Throw all the genres and hyphenates together you want to describe her – gospel, roots & soul, jazz, blues & country – they are all right, and also not enough. Chastity channels songs that are borne deep in the American bone, the hunger, desperation and confidence that runs through our times. Coming from Tennessee to Minnesota, touring the country, she has had half her own lifetime and million lifetimes gone before to concoct her powerful sound. Ignite it all with love, and the rest is rapture.
That rapture and all the touring have paid off. A one-song offer with Executive Producer Fred Cannon turned into studio sessions which led to a full record deal with the Nashville, Tennessee label C&D Music Network, produced by Paul Buono.
Chastity says that Buono "has a wild imagination and a great ear for song arrangement," and that Cannon "brought a wisdom and foresight that really pushed me to my best." After a year of travel, recording late into the night and intensive collaboration, here is that record – Back-Road Highways.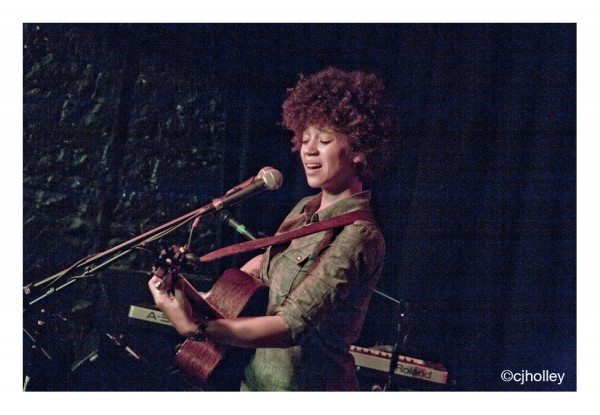 Recorded primarily at the venerable Helsinki South studios in Nashville, Chastity returns to a return to Southern warmth with a roster of heavyweight studio musicians backing her up. Among them, bass player Anton Nesbit has credits such as Mavis Staples and BeBe & CeCe Winans to his name and organist Blair Masters has performed with Garth Brooks. Also on Back-Road Highways is guitarist Robert Mulrennan of No Bird Sing, who plays with Chastity in her live band. Chastity pulls from a diverse cross-section of talent for her live shows, playing with percussionist Michael X, keyboardist deVon Gray (Heiruspecs) and bass player Jef Sundquist (Hildur Victoria), resulting in restless, electrifying and completely enveloping performances that never want to stop and linger long after the last note has quieted.
Back-Road Highways is the best yet from Chastity. Opening with the slow, pulsing insistence of "House Been Burnin," a cry out for our needs, she follows it up with the rocking blues of "When We Get There" and the plaintive, moving roots of "Solely." Chastity turns it all around and brings out the joys and sorrows of love with the enormous, pleading, "Say It" balanced with the sweetly ecstatic "After You." Throughout Back-Road Highways, Chastity sings it all out, gives us all a reason to keep on going one more day.
A talent like this doesn't appear overnight. It takes travel, it takes guts. It takes chance, work and luck. It takes love. Get ready to love Chastity Brown.
Videos
Releases
Open-Ended Radio Interview
Chastity Brown's Open Ended Radio Interview – Download Segments
Press and Reviews
On the heels of Do the Best You Can and Sankofa — neither of which set the world on fire but garnered a small, fiercely loyal following — came High Noon Teeth, a solid outing that saw her artistry, a uniquely self-styled brand of acoustic soul, brilliantly evolve into the signature sound of a master at the craft.
Proving that was no fluke, for that matter that she hadn't crested, Back-Road Highways and Long Way firmly established Brown as an artist of undeniable consequence. Her following has since mushroomed into fanatical droves descending into packed houses at venues like Cedar Cultural Center, First Avenue, New Century Theater and the Dakota.
Chastity Brown Wows Festival via We Love Stornoway
Totally stunned – floored I say! Chastity Brown's "Long Way" via Middle Tennessee Music
Chastity Brown Back-Road Highways review via No Depression
Chastity Brown Back-Road Highways via Glasswerk
Back-Road Highways Review via American Roots UK
In Virgin Territory via The Sunday Times (UK)
New Music: Chastity Brown – "I Left Home" – It Sounded Sweet via Joshua Nicol
Chastity Brown – Back-Road Highways Creative and Dreams Music Network – Three Chords and The Truth UK
The Current's 8th Birthday Party, Night One, 1/18/13 by CityPages
Interview with WNOL, Westminster News Online
Chastity Brown fits the mood at Icehouse by Sheila Regan – Twin Cities Daily Planet
---
"The simple truth is that music of this quality and depth rarely makes the kind of impact that it should." -Andy Snipper, Music-News.com
---
"This is without doubt one of the year's best and most interesting releases, and I cannot wait to witness a live performance." –Shakenstir.co.uk
---
Chastity Brown has fused Americana, blues, folk and jazz on this beguiling fourth album of original compositions. Since her debut back in 2007, the Minneapolis-based singer-songwriter has forged an idiosyncratic musical path to winning effect and this is undoubtedly her best yet, with strong songwriting, and her banjo and acoustic guitar playing much to the fore. Opener House Been Burnin' sets the tone, with the 31-year-old's bluesy and gravelly vocal evoking memories of Tracy Chapman at her best. I Left Home, Lift Us and Slow Time also make an indelible impression, underlining Brown's talent and marking her out as a performer of rare quality. Rating: 8/10 (Review by Kim Mayo)
---
"Forget the genre hopping; Brown has produced the soul album of the year, simple as that." –Penny Black Music
---
Chastity Brown – offered musical diversity on her first few albums. On her recent release, Back Road Highways, her soul comes with a hyphen attached, generally showcasing itself in terms like soul-folk, soul-jazz and soul-roots. The key word is Soul and Chastity Brown cannot stray too far away from the term with vocals that demand, cajole and tease their way through her songs. THE ALTERNATE ROOT TOP 30 ROOTS SOUL ARTISTS – RIGHT NOW!
---
Since beginning her musical career 15 years ago, Chastity Brown has quickly become a household name with her deep and motivational lyrics, her down-to-earth personality, and her inspiring sounds behind the instrumentations on each track. Though she admires great artists such as Nina Simone and Lauryn Hill, Brown differentiates from these artists due to her originality and humbleness maintained behind her music. "This past Fall, while in Europe, I was playing my first show at Hansa 48 in Kiel, Germany. I was hoping at least 20 people would show up, but it was sold out," Brown proudly states, "It was like I was exactly where I should be and so were they (the audience)." –The Examiner.com

---
After hearing Chastity Brown sing once, the memory of her voice will haunt you forever. This past spring, Brown released her fourth studio album, Back-Road Highways, which blends all the influences the Tennessee-raised Brown grew up around into something categorically elusive. When Brown is hurt, it's deeper than the blues; when she's singing about home, it's more solemn than gospel. "Solely" is a torched ballad, and Brown's raw voice makes it personal and moving. She's worthy of not only a place on local lists, but national lists as well. Until then, we're proud to have her. –Natalie Gallagher/Minneapolis City Pages December 2012
---
"Chastity Brown is a bluesfest regular who always draws an energetic crowd to the acoustic tent. The Tennessee-to-Minneapolis-based singer has a can't-sit-still style, like the songs are physically worming their way out of her body." –News Tribune staff, Duluth News Tribune
---
Kieler Nachrichten, October 8, 2012
Strong Roots, Rich Blossom
Chastity Brown put a spell on Hansa48
Kiel. Tennessee: this South-Eastern state of the US is wholly held sacred by lovers of music. Elvis Presley and Johnny Cash were born here, and so were Aretha Franklin and Tina Turner. City names like Nashville and Memphis sound the same notes as do the songs which have been recorded in their countless studios.
Tennessee is the cradle of Blues, of Rock 'n' Roll, and of Country music. Gospel flowered here, too, combining the cultural heritages of Afro-Americans and Whites. Here, the enchanting Chastity Brown was born. 'My father was a black man, my mother blond and blue eyed', she sings in her first encore at Hansa48's fantastic and packed concert. With his line from Bound to Happen she is handing us the key to Tennessee music and her own art.
Yet, as strong as her musical roots are, as authentic and independent here songs come along. As a singer and songwriter, she regards herself as a storyteller. But it is not mankind's big adventures she is interested in, rather little every-day chores which nonetheless may be of existential importance. Her style she draws from the rich well of her musical tradition.
I left Home, a wonderful Blues, tells us about the tiring and oftentimes inhuman struggle for work and dignified subsistance. After You, a poetical love-song, touches on the boundaries of ethno-pop. When We Get There adds to the Blues well measured-out elements of Rock. Slow Time is of a melodic and wonderful souly gentleness, whereas Man and Gun is dynamic and powerful, reminiscent of a young Bruce Springsteen in its energy. All this is crowned by the character of the young American's highly emotional and memorable voice. A voice strong and proud as it is fragile and tender. The reviewer carries a hand-written set-list of Chastity Brown's first European concert. He will cherish it. Who knows… – Thomas Richter, translated by Nils Aulike)
---
"With a measured and deliberate pace and confident but slow-simmering delivery, Brown's songs don't flood the senses as much as slowly seep in through tiny cracks and crevices." –RADAR: Chastity Brown by Direct Current
---
"Back-Road Highways is a record which conveys an evident journey. It's the product of two years traveling between Minnesota and Tennessee where the majority of the recording was done, grounded in Brown's southern roots, and a process which involved dozens of musicians and producers. The result is an album which grandly flows, more of a lyrical poem than 11 separate tracks. On this album, she has never sounded more confident." -Jon Schober, 89.3 The Current, March 2012
---
"Her new album, Back-Road Highways, shows why she deserves a national audience." -NPR, July 2012
---
"Chastity Brown can sing the blues off a pair of jeans, then turn around and quietly play the banjo, just to keep you on your toes. Blending folks and soul, she's opened a volcanic seam on the rugged landscape of American song." -MN Monthly Magazine, May 2012
Chastity Brown Arrives With Americana Soul – CMT Edge
10 Top Moments From Americana Music Festival
Chastity Brown at the Basement
On the final night of the festival, I decided to only see bands I'd never seen before. As it turns out, my favorite song I heard all weekend was from Brown, a Tennessee native who now lives in the Twin Cities. With an addictive banjo riff and a slow-burn voice, her tune "After You" knocked me out during her showcase at the Basement. She's definitely a songwriter and performer to watch. –Craig Shelburne, CMT News
---
Americana Festival 2012: Something To Talk About
Saturday night brought a performance from another young performer who claims Raitt as an influence: Chastity Brown. She presented herself as a singer-songwriter, making a point to say that her hypnotic, down-home chant "House Been Burnin'" was the only song she'd entrusted to a co-writer. But she also brought fresh neo-soul sensibilities and gospel undertones to the Americana table. Brown's singing never took a backseat, and, at certain moments, the timbre of it—breathy and full-bodied at once—along with her rhythmically relaxed phrasing and fluttering vibrato recalled Lauryn Hill. And it felt really right that those sorts of R&B threads fit so naturally into Brown's take on root. –Jewly Hight, American Songwriter
---
Emotions run the gamut with this record, with questions and longing, hurt and desire, being answered with love and warmth at the end of the journey. –C Bret Campbell, Middle Tennessee Music
---
Brown's voice is rich and butter-smooth, and her songs have a soulful, often melancholic blues-folk sound with accents of jazz, country and even classical touches. –Susannah Schouweiler in Music, St. Paul
---
Chastity Brown is an old soul in a young body, with a gut wrenching sound that bridges generations with its originality and combination of diverse rhythms and genres, including blues, folk, country, pop and gospel that twist, turn and meld into something else. –Generational Soul: Music Musings for Modern Times by JAS
---
Her music is forged through an intelligent commitment of soul, blues, and roots influences, each discernible in individual tracks, but what gives Brown her strength and elevates her far above her peers is the palpable emotion she invests in her songs and performances. Brown is not just a folk artist, she is a poet, one who pours every ounce of her life and feeling into her music, one who is impossible to ignore. Her past, her struggles, and her wisdom are scattered throughout her storyteller's songs, folded into lyrics sung in her dark honeyed voice. –Minneapolis Best Folk Artist – Chastity Brown – Best Of Minneapolis – City Pages
---
"Back-Road Highways" reviewed in Twin Cities Daily Planet!
"Soulful acoustic artist and Twin Cities icon Chastity Brown, singer-songsmith-guitarist, has everything it takes to go national. Including an incredible new album, Back-Road Highways (C & D Music Network). … With melodic structure bordering on hypnotic. Vocals, beautifully raw-edged, leaning less on power, more on subtlety (make no mistake, Chastity Brown still can sing her way through a brick wall). Back-Road Highways is a career hallmark. The fine fun of "After You," a rollicking blend of gospel, calypso, and country-western, stays with you long after the song's been sung. "Solely" haunts, an eerie bluegrass-tinged ballad. "Could've Been a Sunday" is a trademark masterstroke. This song captures Chastity Brown's quintessential attribute, soul-searching grit and grace." – Dwight Hobbes, Twin Cities Daily Planet
---
Chastity featured in the Twin Cities Onion/A.V. Club!
"Attempting to succinctly categorize local songstress Chastity Brown's boldly style-blurring tunes invariably challenges any music critic, and is likely to leave them either tongue-tied or spouting off invented-on-the-spot subgenre nonsense. ("It's sort of R&Bluegrass music, kind of an alt-soultry thing going on.") The simple truth is that pigeonholing Brown's wide-ranging and joyously eclectic tunes is a fool's errand, and it sort of misses the point. Recorded in her native Tennessee, Back-Road Highways, Brown's fourth album, manages to confidently marry the sounds that made both Memphis and Nashville landmark music cities. Even on Brown's glossiest countrypolitan tunes, her voice aches with raw emotion, while her forays into gospel and blues possess a surprisingly accessible melodic sensibility. The end result is the best of both worlds." – Rob Van Alstyne, The Onion
---
Chastity is featured in this week's print edition of the City Pages!
"And there are plenty of entry points. The album's opening track, "House Been Burnin'," is a sultry, deep, red southern torch of a song, where Brown flaunts her blues influence. "If You Let Me" incorporates a slow-burning electric organ for a heady gospel sound.." –Natalie Gallagher, City Pages
---