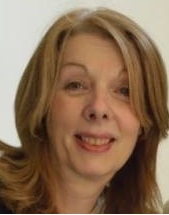 Creative and Dreams Music Network, LLC and Fred Cannon are proud to welcome Kate Martino.
A prolific, freelance writer of features, lyrics, poems and novels, Kate Martino is the author of many of the biographies featured on the Creative and Dreams' website. Kate has known our very own music man, Fred Cannon, since 1977, an association that began in London when both worked for Pink Floyd.
Originally from London's East End, Kate left school with the intention of pursuing a career in journalism. Her first job was working for brand new radio station, London Broadcasting, where she joined the staff two weeks before the station went on air. Although employed as a 'Girl Friday', the producer of the arts program recognized Kate's talent and gave her the opportunity to research the guests before they appeared on the show. This was in the early 1970s, before the internet, and it entailed Kate spending hours at Reuters, who had offices on Fleet Street, poring over books of press cuttings in order to gather the information needed. Nevertheless, being something of a 'Sherlock Holmes', this was something she enjoyed, and she might have continued along her chosen path had she not met Marc Bolan of T.Rex fame. An avid fan of the man and his music, Kate discovered the address of Marc's management office and set about introducing herself. It only took a couple of excursions before she came face to face with her idol. The 1970s were a kinder and gentler time, and she soon got to know the other people who shared Marc's office premises, primarily Pink Floyd. In January 1976, Steve O'Rourke, manager of Floyd, asked if she would be interested in working for them, and even though they knew that she only had eyes and ears for T.Rex, Pink Floyd were good sports about it!
In the early 1980s, Kate formed a pop group of her own. She came up with the name, 'The Exotic Pets', wrote the songs and perfected the image. Success eluded her, but she had fun trying, and thanks to her marketing and writing skills, the group did get a short write up in UK trade publication, 'Music Week'.
1987 saw her relocate to Maryland, USA, where she still resides. She continued to write, and while staying home to raise her son, wrote a children's book, 'Echo the Ecological Squirrel'.
Kate is currently putting the finishing touches to her latest novel, working title, 'The Posh Frocks'. 'The Posh Frocks' is the name of a girl band, and Kate draws her inspiration from her time working in the UK music industry. A lover of puns and the Eurovision Song Contest, Kate welcomes freelance assignments.
When you're lost for words, let Kate Martino make it write!
For more information about Kate Martino, please email us at info@creativeanddreams.com.
"It all begins with a creative dream." – Fred Cannon
Visit Kate's Facebook Page, I Rate Kate Media, here: https://www.facebook.com/katemartinomedia