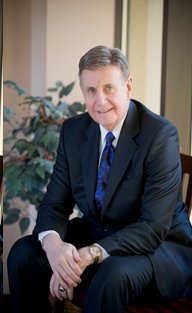 Creative and Dreams is proud to welcome a new talented and creative professional to our wonderful family of unique talent and expertise.
Timothy C. Moynahan is the founder of the Moynahan Law Firm in Waterbury, Connecticut. Mr. Moynahan's mission was to build a full-service firm that is known for being entrepreneurial in its vision, responsive to its clients and dedicated to the communities it serves. The firm works with individuals, families and companies of all sizes, from the emerging business to the mid-size corporation. As a result of his successful approach to his work, Mr. Moynahan's peers have selected him as a New England Super Lawyer for four consecutive years (2009-2012).
Outside of the firm, Mr. Moynahan lectures on a variety of law-related topics in the United States and abroad. Under the auspices of the United States Information Agency, he addressed law faculty and students in Lahore and Karachi, Pakistan, on the Bill of Rights, A Free Society and the United States Constitution. He also served as a panelist/speaker at the Fifth Annual Convention of the American-Arab Anti-Discrimination Committee, where he shared his thoughts on the Palestinian-Israeli Conflict and the First Amendment. Other previous speaking engagements included a seminar in Ireland with Irish Barristers and Justices, where he gave a speech entitled, "A Graphic Review of Freedom of Expression as Envisioned by the First Amendment, A Connecticut Case and the Constitution of Ireland" and a United Nations Delegations Women's Club luncheon, where he shared his thoughts on "Constitutional Principles in a Free Society."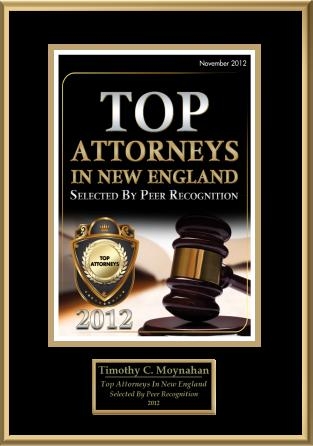 TIMOTHY MOYNAHAN, ESQ. NAMED "BEST CRIMINAL DEFENSE LAWYER" BY "WATERBURY OBSERVER" NEWSPAPER
Waterbury, Southbury, Conn. – Timothy C. Moynahan, Esq., of Wolcott, named "Super Lawyer of New England and Connecticut" 2009 through 2012 by New England "Super Lawyer" magazine, will be named "Best Criminal Defense Lawyer" in the July 2014 issue of "The "Waterbury Observer" monthly newspaper. The paper's annual "Best Of Readers' Poll" awards are tallied from ballot entries provided by their readers. In March and April, the publication published 28,000 ballots asking their 14,000 readers to vote for their favorite businesses, restaurants and community leaders. The free publication is distributed monthly to 350 locations throughout Waterbury, Watertown, Wolcott, Naugatuck, Prospect, Middlebury, Morris, Thomaston and Litchfield, and news is posted news on their website, www.waterburyobserver.com.
"Having practiced in Waterbury for the past 27 years," responded Moynahan to the award announcement, "I am very pleased with this recognition by local area residents. Having established my practice in Waterbury in 1964, it's good to know my involvement, and commitment to numerous organizations in the community has been noticed by so many people in the region."
Moynahan stated that his practice focuses on criminal defense and personal injury, and he collaborates with other area attorneys on corporate and commercial law, appellate law, employment and labor, estate and probate, family law and domestic relations, immigration, intellectual property, international law, real estate and workers' compensation.
In February of 2014, Moynahan moved The Moynahan Law Firm to 60 North Main Street in Waterbury and expanded offices to 49 Peter Street in Southbury. "After 26 years at 141 East Main Street in Waterbury," stated Moynahan, "my team and I moved into the beautiful, historically-significant Waterbury Savings Bank building, and established new offices in Southbury. These have been very positive changes, and now being named 'Best Criminal Defense Lawyer' in the Waterbury region multiplies these exciting changes and recognitions experienced in the past six months of this year."
In May 2014, Waterbury-based Post University presented Attorney Moynahan with an Honorary Doctor of Letters Degree during the university's commencement ceremonies. The Post University Board of Trustees also announced at the ceremonies that they named the law section of the university library after Moynahan. "These are two tremendous achievements and recognitions," remarked Moynahan. "I simply couldn't be more pleased and delighted."
Post University bestowed the honors on Moynahan following his notably generous donation in 2011 of more than 2,000 law books to its library. The donation doubled the university's collection, making it the largest undergraduate legal studies library in the area. Moynahan is a long-standing member of Post University's MBA Advisory Board, and the university noted that they had not received such a generous and abundant donation of legal publications.
Across Connecticut, Moynahan has also served as the regional coordinator for the National Association of Criminal Defense Lawyers Board of Governors of the Connecticut Trial Lawyers Association and on the board of governors Connecticut Criminal Trial Lawyers Association.
Mr. Moynahan has also served on a number of Boards and committees. His current and past Board and committee appointments and awards include:
Chairman, Executive Board of the Global Virus Network
Member, Post University MBA Advisory Council
Member, Advisory Board and Executive Committee, Institute of Human Virology
President, Ireland Chamber of Commerce in the United States, Connecticut Chapter
Attorney Emeritus, the Board of Governance (2012-2014), The Let's Think-Kids Foundation
Member, NBA Retired Players Advisory Board
Vice-President, Paula A. Moynahan Skin Care
Peer Elected New England Super Lawyer (2009-2012)
Board of Directors, International Council for Middle East Studies
Past Chairman and Current Board Member, Palace Theater Group, Inc.
Member of the Mayor's Commission on Diversity and Integration
Member of the Supreme Court Chief Justice's Committee on Criminal Justice
Member of the Dean's Counsel, Quinnipiac School of Law
2005 Man of the Year, Yeshiva Gedolah of Waterbury
2005 Coqui Award, Hispanic Coalition
Past Board of Directors, Greater Waterbury Chamber of Commerce
National Co-Chairman/Award Winner, Sons of Italy, Washington, D. C.
Co-Chairman, The Ataxia-Telangiectasia Medical Research Foundation (A-TMRF), Dinner Dance 2002
Member and Past President, ProfNet
Board of Directors, Leukemia Society
Board of Governors, Connecticut Trial Lawyers Association
Board of Governors, Connecticut Criminal Trial Lawyers Association
Advisory Board, Teikyo Post University
Regional Coordinator, National Association of Criminal Defense Lawyers
Former Treasurer, City of Waterbury, Connecticut
Former Town Attorney, Prospect, Connecticut
Member, National Italian American Foundation
Member, Pontelandolfo Club
For more information about Tim Moynahan, please contact info@creativeanddreamsmusicnetwork.com.
"It all begins with a creative dream." -Fred Cannon