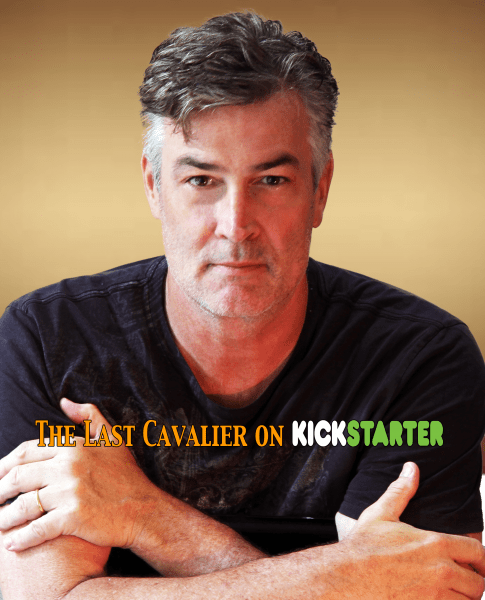 Creative and Dreams Music Network and Fred Cannon are proud to welcome the creative talents of author and actor Daniel McVicar.
American actor Daniel McVicar, who is based in Italy and Los Angeles, is the co-author of the graphic novel, The Last Cavalier. He is currently raising money via Kickstarter to produce the first edition of The Last Cavalier, a project that is destined to be a new and powerful adventure for comics and films.
His co-author is Roberto Pretti, a screenwriter who is known for his work on the cult science fiction project "Closer" and the upcoming "Dark Resurrection Vol. 2." Acclaimed D.C. and Marvel comic artist Gianluca Gugliotta is on board to provide his considerable talents to make the world of The Last Cavalier come alive.
The story focuses on Michael Cross, a young art historian with anger issues who is called back to the past and destiny from which he escaped. He has been struggling to live a normal life with his beautiful and patient wife Anna in Boston, but he is destined to be a modern-day Templar Knight. He must keep the world in delicate balance between good and evil, and fight the evil that he finds in himself. His sword, his will, his intelligence, his heart and his tainted soul are his forces in this fight. The legends will span the world and touch on theologies and objects that are all secretly connected. Ancient Egypt will meet the modern world, the Templar Knights and the Shroud of Turin. These adventures are a rich mix of fantasy and history, with attractive characters and action.
Developed over the course of several years, several graphic novels and two films have already been written. The project is currently accepting pledges via Kickstarter. To learn more about The Last Cavalier, please click here: The Last Cavalier on Kickstarter http://bit.ly/tlcgn.
Daniel's creative career began when he moved from Colorado to Los Angeles to enroll at the California Institute of the Arts. In Hollywood, he studied with Stella Adler, Lee Strasberg, Paul Sills and Milton Katselas. He also studied in a Shakespeare Intensive at London's Royal Academy of Dramatic Arts.
On television in the United States he is known for his comedic appearances on "The Late Late Show with Craig Ferguson," his role as Rock Hudson in "The Elizabeth Taylor Story" and his long-running role at Clarke Garrison in "The Bold and the Beautiful."
In recent years, Daniel has embraced independent European production. He has worked extensively in Italy and Europe, playing roles in English and Italian. Several noteworthy projects include "Men vs. Women" for Fausto Brizzi, the cult sci-fi film "Dark Resurrection," and performances with Gina Lollabrigida and Ben Gazzara. He also appeared as Diabolik in the cult video clip for the Italian musical group Tiromancino. A member of Mensa, he has been able to pick up enough Russian to appear in the award-winning Russian director Dimitris Astrakhan's film "The Fourth Planet." In 2012 he worked in Poland with director Jacek Bromski in his new film "One Small Step for a Man" and the Italian television success "Medico in Famiglia."
Daniel's company Magmawave is based in Los Angeles and Torino, Italy. Magmawave excels in new media production and also develops more traditional media. Daniel is also a producer, writer and director, with his short film "Always a First Time," which was chosen as part of the "Best of the Fest" at the Salento Film Festival.
Daniel was a pioneer in online video, starting in 2006 with his award-winning show and community LateNiteMash.
For more information about Daniel McVicar, please contact us at info@creativeandreams.com.
http://www.imdb.me/danielmcvicar
"It all starts with a creative dream." – Fred Cannon